Stamp is only allowed in the Documents screen for any document which is a PDF or can be converted to PDF. In order to stamp a document it is necessary to have working integration with 3rd party software as described in the installation guide.
If you have the write permission, select a document and click on the Stamp icon of the tool bar.

A dialog box allows you to choose one of the stamps assigned to you.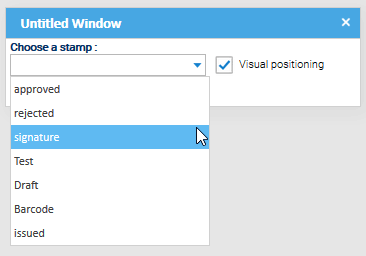 Please select one and click on Apply, now the stamp is printed in the document and a new stamp icon appears on the left.

You can click on this icon to download the PDF conversion with the recently applied stamp.
Visual positioning
If in the stamp selector you also choose the Visual positioning option, you will be asked to position and size the stamp area inside the document.