In order to download a document or convert it to PDF format, you must have the Download permission.
Download
If you want to save a document in the local computer without making any changes, you can right-click on a document and select the Download item. Remember that once you have the file in your desktop, it is a mere copy of the original content stored in LogicalDOC, so your modifications will not be replicated in the system.

You can also download a set of documents as a single .zip archive. Just select some documents, right-click on them and choose Download.
Download Ticket
The Download Ticket is a special link generated by LogicalDOC you can then freely distribute to give access to a specific document to people not registered in the system. The download ticket has an expiration time and if someone clicks on this link, the document will be downloaded directly from the repository. The creation of a download ticket is only available if you have the Download permission in the current folder.
To create a new Download Ticket, right-click on a document and select More > Download Ticket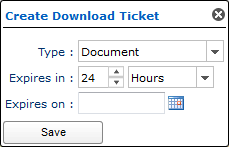 These are the fields you can fill:
Type: You may want to download the original document, or it's PDF conversion
Expires in: a validity period since the current time (this is ignored if you specify an exact expiration date)
Expires on: an exact expiration date
Press Save and the generated link will be shown to you in a popup window, please copy it in your clipboard and distribute it to your audience.