The Barcode feature allows you to use barcodes to extract the metadata and store them as extended attributes of the document.

Once you have selected the document template, you can then select one of the available barcode templates or create a new one by clicking on New. You may define multiple barcode templates for the same document template.

To create a new template just click on New button an give the name of the new template.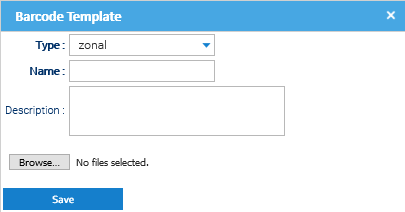 You may choose between two types of barcode templates:
positional: the system will extracts all the barcodes and you just specify an ordered list of recognition patterns
zonal: you specify the zones where each one of the barcodes should be found
Positional Templates Zonal Templates
Processing queue
In this panel you can see all documents not already processed. You can make unprocessable a document by right clicking on the item and then selecting the Mark as unprocessable option.