Into the Barcodes panel you can retrieve informations about and configure the Barcode Engine, the templates patterns and documents queue for the barcode processing.
Barcode Engine
In this tab you can specify:
the patters defining the inclusion/exclusion policies for the Barcode Processor task operations
a batch size that is the maximum number of processed documents at each execution(a <1 value doesn't apply any constraint)
the minimum image threshold width in pixels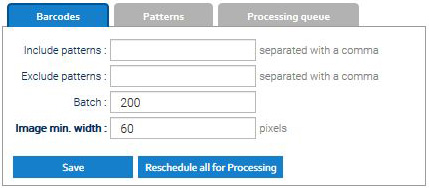 These operations are available:
Save: all the changes will be stored.
Reschedule all for Processing: all documents with a valid pattern will be re-processing during the next Barcode Processor task operation.
Patterns
In this panel you can define the pattern that will be associated to each template.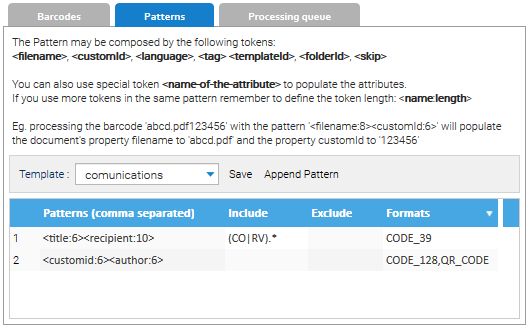 These operations are available:
Save: all the changes will be stored.
Append Pattern: appends a new line into the patterns table. You can select a template item from the drop down list.
Double clicking on a pattern item you can insert or edit the pattern.
NOTE: If you want to see all the current patterns on a template, select it from the drop down list.
Here is a brief explanation of the tokens that can be used to compose the pattern.
filename: this represents the name of the file, after the barcode processor reads it, it will change the filename of the document
customId: A custom identifier of the document
language: the language of the document using the Java Locale notation: 2 chars ISO 639 alpha-2 language code or 2 chars language code and 2 chars ISO 3166 alpha-2 country code
for more information https://docs.oracle.com/javase/8/docs/api/java/util/Locale.html
tag: represents a label to be applied to the document
templateId: the custom type id of the document
folderId: it represents the id of the folder into which the document will be stored. It can be used to automatically move a document between folders
skip: a barcode that must be skipped
Conditional processing
For each pattern you can optionally define inclusion/exclusion expressions and format declarations to process or skip a specific barcode.
In Include and Exclude you can write a regular expression, while in the Format you specify a set of possible barcode formats.
When a barcode is detected it is processed only if:
the format is one of the specified ones and
the value does not match the exclusion expression and
the value matches the inclusion expression
In order to write correct regular expressions for Include and Exclude, please familiarize with the regular expression syntax.
Processing queue
In this panel you can see all documents not already processed. You can make unprocessable a document by right clicking on the item and then selecting the Mark as unprocessable option.