As an option it is possible to apply a specific look&feel to the user interface to the whole product and each single tenant.


The branding of the whole application is accessible in Administration > System > Branding
If you want to change the branding of a specific tenant you can do it in the Branding tab of it's properties panel.
In the branding form you can specify the value of labels used to brand the product. These elements  appear in different locations of the interface.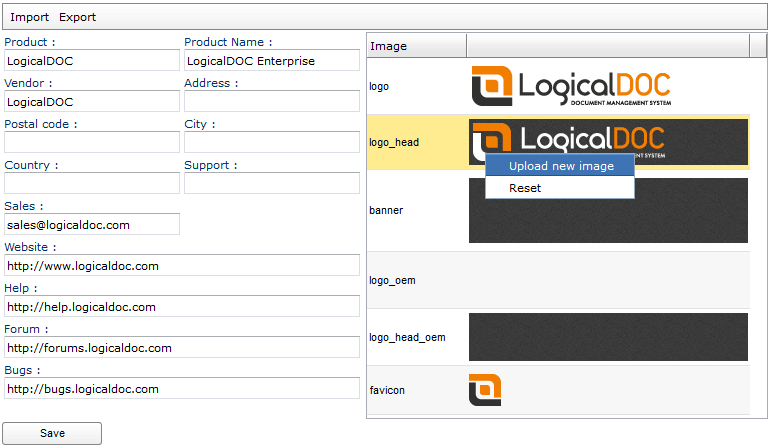 You can also upload new logo and banner images to characterize the appearance. In the images grid just right click on the image you want to change and upload your own file(png format).
logo: main logo, it appears in the login screen
logo_head: logo that appears in the banner at the left
banner: the background pattern of the banner
logo_oem: logo that appears in the login screen
logo_head_oem: logo that appears in the banner at the right
favicon: the site icon shown by the browser
After saving your modifications, the new branding will be applied at the next login.
Branding Packages
You can export the actual branding by clicking on Export: a branding package will be downloaded as compressed zip file.
Inside the branding package you find a README.txt that explains the content.
At the same time if you want to upload a previously prepared branding package, click on Import.
Branding Options
While adding OEM logos is always posible, all the other branding options are subject to different commercial policies and are not enabled by default in the system. Ask our sales team for more informations.