This procedure requires LogicalDOC to be able to access Internet, if you are running an old version of the software or if LogicalDOC cannot access the Internet, please follow the manual update guide.
1
Backup your System
Read instructions on how to backup and restore
Be sure to be able to roll back to the previous version in case you have problems
Remember that we are not liable for loss of data if you don't have a valid backup
Launch the backup
2
Download the update package
Enter LogicalDOC as admin and go to Administration > General > Updates and Patches > Updates here if a new update package is available click the Download button and wait for the completion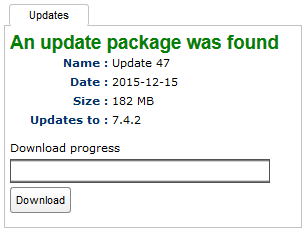 3
Run the update
Carefully read the Update Notes
Before running the update you must carefully read the Update Notes that display important informations you must be aware of and also indicate if you have to take specific actions before and/or after the update.
Once the update package is downloaded, the system shows important notes you have to know before updating. Please execute the activities described in the pre-update section and then click on Confirm Update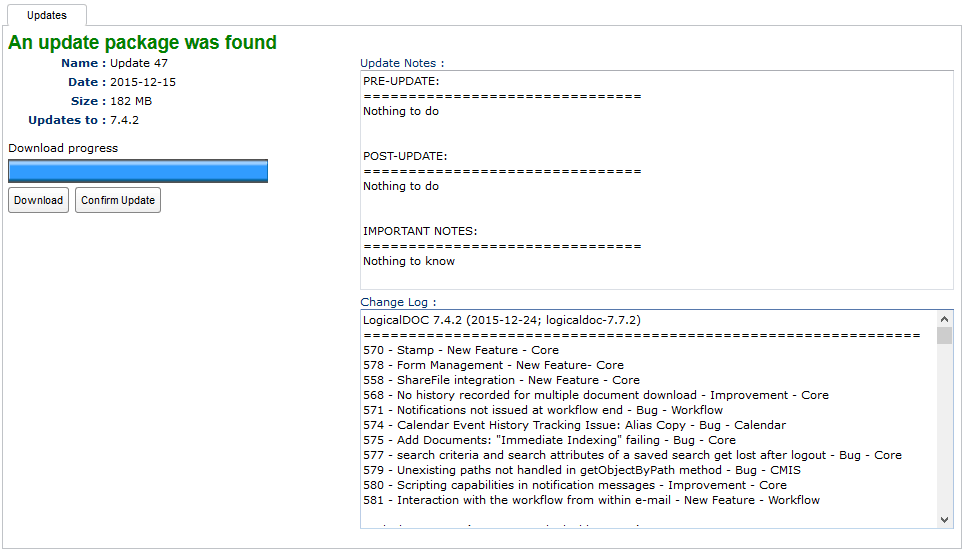 Now the update is automatically executed by an external program and during this process LogicalDOC may become unavailable(the time depends on several factors but expect at least a couple of minutes). If you do not see LogicalDOC updated after some minutes.
4
Confirm the update
Clear the browser's cache(read instructions on how to clear the cache)
Enter the system as admin user
Go to Administration and here click on Confirm Update