Each LogicalDOC installation has it's own license that contains the list of available features and various operating parameters like the maximum number of users and documents.
Your license is identified by a unique User Number also known as Activation Code or License Number.
In order to check the details of your license and take actions on it, you can enter LogicalDOC with the admin account and then go to Administration > System > License
If you cannot enter LogicalDOC, access the license page at the following URL: http://your_server_ip:your_server_port/license where your_server_ip is the address of the machine where LogicalDOC is installed in and the your_server_port is the working port as defined during the installation(by default it is the 8080).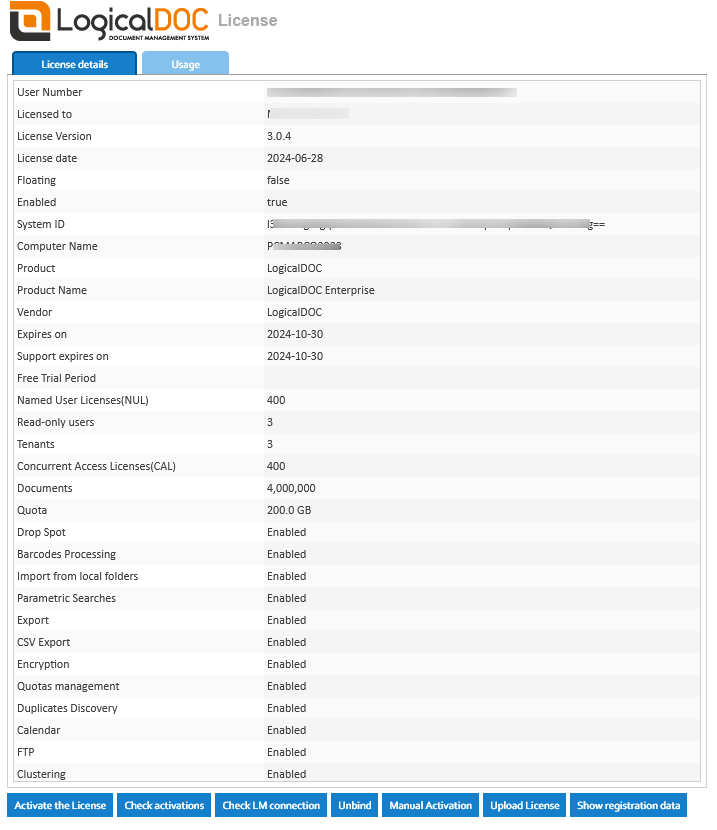 License page protection
In order to protect your privacy the license page is protected by security checks. To be able to enter this page you will be required to put credentials, so use admin as username and for the password use the same password of the admin user as you configured in the LogicalDOC's security.
Registration data
Each time you activate the license, your registration data will be sent to identify you, so it is important to make sure they are correct and current. You control your registration data by pressing on the button Show registration data.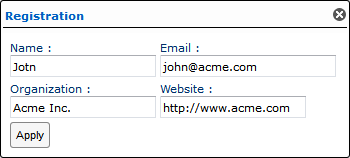 License Activation
The "License Activation" is the process of successfully installing in your device a valid license file for your copy of the LogicalDOC application.
When you install LogicalDOC, you are required to input your User Number and in general the activation process is carried on by the installer itself.
After that, in the future you may be required to activate again for a variety of reasons like the followings:
the installer was unable to activate your license during the installation
you have to install a different license(eg you installed a trial and now you want to activate the regular license)
you have to update the license to unlock aspects you purchased
Go to the Activation Procedure 
Limited number of Activations
Each User Number can be activated up to 3 times, further activations can be granted but you have to ask to the support service explaining your reasons.
License Unbind
The "License Unbind" is the procedure to detach the license from the current hardware so it can be activated in another computer.
Typically you unbind a license when you want to migrate your installation to a new server.