LogicalDOC makes use of some external applications and implements different protocols you might want to control in the Client and External Apps section.
External Apps
In this tab it is possible to specify a set of absolute paths where some needed external commands.

Convert: full path of the convert command of Image Magik
Ghostscript: full path of the gs command
OpenSSL: full path of the openssl command 
Keytool: full path of the keytool command in the Java JDK
Additional protocols
In the same administration section you can also access to the details of the additional communication protocols supported by the system(Web Service, WebDAV, CMIS, FTP). Each additional protocol has a dedicated tab in which you can access to the proper details.
External Call
The External Call allows the user to invoke an external 3rd party application from the documen't context menu.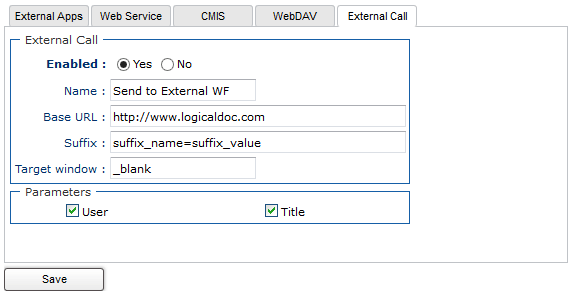 If you enable the External Call, a new menu item will appear when the user selects a document in the interface.
Name: the menu item name
Base URL: the URL that the browser will be redirected to. LogicalDOC will always append the ID of the selected document additional as parameter
Suffix: an optional suffix string to be appended at the end of the URL
Target window: name of the browser's window(default is _blank which creates a new window)
Parameter User: appends the ID of the current user as parameter in the URL
Parameter Title: appends the title of the selected document as parameter in the URL